Buried in Biddenden, an experience awaits you, where you can combine being green with superb wine, great food and Mother Nature's tonic of the great outdoors.

The UK Electric Bike Centre has created a package that has it all - self-guided vineyard tours for everyone, regardless of age, for friends, work colleagues, stags or hens.
Hire an e-bike, pick up a map, then navigate you and your group to one of the locally-chosen vineyards, where you enjoy a tasting of Kent's wonderful wine, produced from grapes grown in the county's famous chalky soil.
Or you can choose the pub routes for the pie and pint tour, stopping at places owned and run by the UK's oldest brewer, Shepherd Ne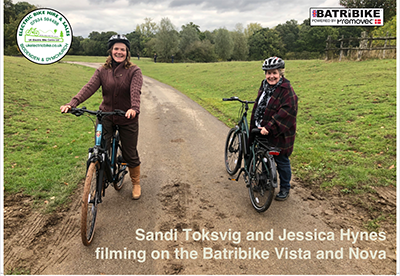 ame, or the Old Dairy Brewery too.

And the company has just picked up another award - in the Travel & Tourism category of the Lux Life magazine awards, adding to their collection of TripAdvisor awards.
Plus they've added some corporate contracts too, with delivery companies looking to move to greener transport solutions.
And you might have seen their electric bikes on the TV again, on Channel 4's re-runs of Extraordinary Escapes which sees Sandy Toksvig exploring different parts of the UK; one of them being Kent, with Folkestone-based actress Jessica Hynes. (S1, E2)
Founder Marcus Van Der Gaag says everyone comes back with the same two things - a huge smile on their face and a sense of achievement, having cycled much further than they thought they could or realised they had.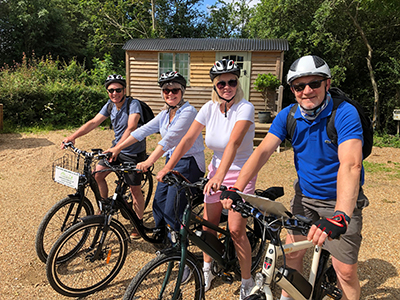 When did you last ride a bike?
Did you buy one in lockdown then use it once and forget about it?
Maybe you had one as a child but never had one as a grown-up…remember what fun it was to hurtle down a hill?
Maybe you think you're too old for a bike, or maybe you don't feel you have the stamina.
In 2021, Marcus's most senior cyclist was 89 years old, who cycled 20 miles per week!
E-bikes are easy
There are very few barriers to electric cycling. An e-bike works by automatically switching on a motor when you pedal. There are various levels of assistance, but the maximum speed is 15.5mph, or you can of course, just use it as normal pedal bike if you fancy putting a bit more effort in.
The extra help they give is the bit that helps you to ride further than you think you could, without as much effort as you think you need. The biggest benefit is seen when climbing a hill or riding into the wind.
Marcus's self-guided tours start at his base in Biddenden and take you, with the help of a very user-friendly picture map, to one of Kent's wonderful vineyards, pubs or brewery: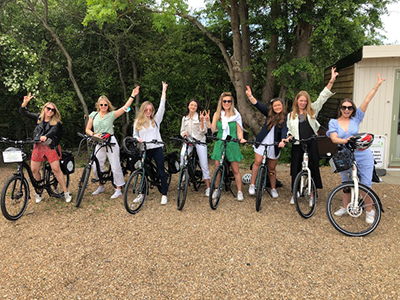 Hush Heath Estate & Winery (Staplehurst)
Chapel Down (Appledore, near Tenterden)
Gusbourne Wines (Ashford)
Biddenden Vineyards (Biddenden)
Woodchurch Wine (Woodchurch, near Ashford)
Shepherd Neame (various)
Old Dairy Brewery (Tenterden)
A full day will see you enjoy a tasting at two vineyards, whilst a half day will allow you one, plus the routes also take you past some wonderful Kentish historical sites too.
The bikes even have side panniers to hold your shopping, should you taste something that you just have to bring home.
If you get lost or aren't sure where you are, Marcus and the team are on-hand to help you to navigate your way through the carefully chosen quiet country lanes.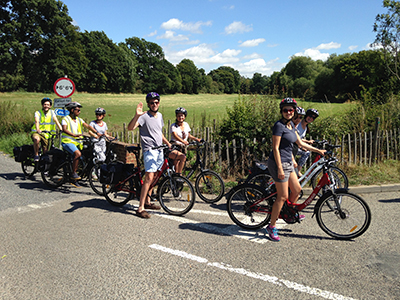 You can of course, pay extra to have a guide if you want to concentrate less on navigating and more on the beautiful countryside and your vineyard treats.
In keeping with being green, guests are also encouraged to arrive via public transport, with a taxi service offered to pick you up and drop you off again from Headcorn Station just a few miles away.
Oh - and don't worry about 'range anxiety' either - the e-bikes have around a 60-mile battery range, ensuring you have more than enough pedal power to get you there and back without running out.
If 2022 is the year of getting more active, trying new things, going outdoors more or booking up an amazingly fun experience, the UK Electric Bike Centre could be the place to look at.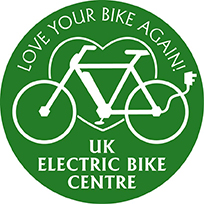 The vineyard tours are:
Full day, £50 (up to 7hrs)
Half-day, £40 (up to 3 hours; 10am - 1pm or 2pm - 5pm)
Add a guide for £100.
And finally - if you're interested in buying an e-bike, Marcus and the team can tell you all you need to know, before you buy one from their shop, plus service, maintain or repair too.