Legend Sailing has been operating for over 18 years in the Loch Tay Area and for the last sixteen years has been the onsite activity provider for Loch Tay Highland Lodges. We are now operating our activities from a new operational base at the eastern end of Loch Tay but providing a more mobile service for the convenience of our customers.
Guided Canadian Canoe Trips for groups of up to 30 people let us tailor an activity to suit your requirements. Whether it be Childs birthday party, Stag or Hen party or Corporate event we will listen to your wishes and provide the perfect experience for your group.
No minimum age.
Kayak Fun Sessions for groups of up to 12 people we can provide a two hour Kayak Fun Session with focused skill teaching, games and high dive thrills. An ideal activity for Childrens Birthday Parties, Stag/Hen Parties or just family orientated activities.
Minimum age 8 years (without adult supervision) 6 years (with adult supervision)
Children's Birthday Party (Pirates of Loch Tay) for groups of up to 12, enjoy Sailing "The Blue Pearl" whilst being pursued by the Barons Fleet Ship "Interceptor" With Cannonballs (water balloons) flying in both directions and armed to the teeth with flint lock water pistols the group will barely have time to stop on the island and find the lost treasure of Captain Whitebeard! Why are they called Pirates? Because they arrrrr!
Minumum age 8 years (without adult supervision) 6 years (with adult supervision)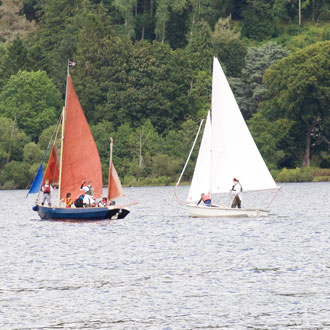 New for 2019
Powerboating Self Drive and Instruction
Join us for the experience of a lifetime on one of our "SELF DRIVE" high speed mini rib express tours. Avon is a name synonymous with Rigid Inflatable Boats and the Avon Rover 310 RIB is the "Pocket Rocket" of the Avon Fleet. The Rover 310 is so light and nimble that with only a 10hp outboard it's capable of speeds up to around 20knots with two adults taking turns at the steering for a 2 hour guided experience. *You do the driving whilst following a qualified guide in another boat.* Twenty Knots might not sound fast but with your bottom mere inches from the water it's going to feel like driving at 70mph with the doors off your car. (In a good way!)
With a shallow V draft and a low centre of gravity you can push the Rover 310 right to it's limits with full confidence that the boat can take whatever you can give out.
An ideal activity for Couples, private parties, Stag parties and Hen parties.
*The first two customers on each tour will be with the guide in an Avon 340 with a 20hp engine*
Minimum Age 16 years old participants under 18 years must be accompanied by a responsible adult and have photographic proof of age.
Other Activities
Quad Biking, River Rafting, Canyoning, Sailing, Paintballing, Gravity Assisted Downhill Cycle Ride and Archery.
Contact: Andy on 07943 612 649 or legendsailing@hotmail.com for further information and bookings.