Fantastic for Families, known for their nationwide family-friendly event listings site, are hoping staying at home can be just as fun
Fantastic for Families relaunches its listings service to connect the nation with creative events and activities even during lockdown.
The organisation is known for its listings website fantasticforfamilies.com, which is especially designed for families to find and experience fun creative and cultural events all over the country.
Now, with COVID-19 bringing the arts and culture sector to a standstill and families staying at home – Fantastic for Families wants to make sure families can still enjoy culture together, at home.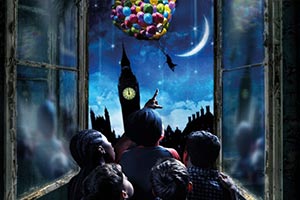 "We're working with organisations across the country to bring a range of fun events and activities to families everywhere via our website. You can take part in an online dance class, join a live craft session, or listen to a live family-friendly musical performance," said Anna Dever, Head of the Family Arts Campaign who are leading the initiative. "Our aim is to make it as easy as possible for families to find all the creative entertainment and cultural activities they need all in one place."
Right now, on the Fantastic for Families site, you can find everything from a performance of The Midnight Gang by David Walliams to bedtime stories, performing art tutorials and crafting sessions.
Each week, more and more culture organisations will be adding their activities and events to the site, so there's plenty in store for all ages. Soon you'll also be able to stream family theatre or download how-to guides for your own at-home family craft activity.
You can discover instruments of the orchestra, visit your favourite locations through illustration, or join others in making at-home creations and sharing them together on social media.
See what you can get involved with at fantasticforfamilies.com 
  
Family Arts Campaign is an Arts Council England Sector Support Organisation and the largest, fully cross art form and collaborative initiative to support cultural engagement amongst families.  It is managed by The Albany (a London based performing arts centre and social enterprise) and a consortium of industry partners. The Campaign works with leaders across all art forms, including libraries and museums, to advocate for the value and importance of engaging families in creativity and to provide practical support in improving access and experience, with the aim of: 
Increase the amount and range of quality artistic work available to families 

Improve the quality of experience for families accessing cultural activities/ events

Improve marketing to reach more diverse families 
840 cultural organisations hold the Family Arts Standards accreditation devised and delivered with the Family & Childcare Trust, with 330 also committing to the Age-Friendly Standards, which provide guidance on welcoming older people to cultural experiences.