The cancellation of the festival season has prompted the founder of online escape room website, Trapped in the Web, Dave Murphy, to create an online experience for those longing for their favourite festival. Murphy, a Capital Radio producer, is a huge escape room fan and was looking forward to his first Glastonbury experience when lock down put paid to his plans to attend along with thousands of others.
Dave was inspired to create the escape room games on Trapped in the Web initially as a surprise and romantic gesture for his girlfriend, Vicky's birthday. "Being in lockdown on her birthday, I thought this would be a fun and engaging way to bring all her family and friends together. The idea escalated from there after seeing what a success it was with everyone. It seemed natural to develop a festival experience and offer people an exciting way of experiencing a little of what they have missed this summer." Dave said.
"Festivals are a huge part of life for people through summer and this year there is a huge hole as all festivals have been cancelled. Escape Fest can bring a little fun and feel of the summer to peoples' homes. It might not make up for the loss of Glastonbury, but it can offer a little taste of the festival atmosphere." Dave concluded.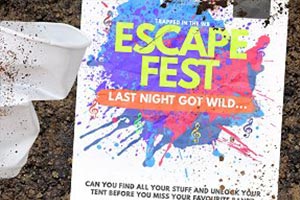 Escape Fest begins with you waking up outside your tent in the boiling midday sun following a very heady night. Memories of what happened the night before are hazy, and the challenge begins to get back inside your tent. Through a series of puzzles and audio and visual clues, players work their way round the festival ground, tracking down their missing belongings and eventually unlocking their tent.
Players can form teams through video chat and Whatsapp groups with no limit on the number of players, though Dave recommends teams of 2 to 8 to make video chat easier and ensuring all players can contribute. Escape Fest is designed to keep people busy for up to 3 hours.
Escape Fest can bring some safe festival fun to those craving for the fields of Glastonbury without having to endure the porta-loos and mud!