Now more than ever, the world is waking up to the importance of sustainable travel. As we collectively become more conscious of our impact on the environment, we have to start scrutinising our lifestyles more carefully – and when it comes to reducing our footprint on the planet, altering the way we travel is a good place to start. One of the more dramatic ways we can support climate action is by avoiding flights, and taking holidays within our own country. Thankfully, the UK has so much to offer and by embracing its beauty - whether that's by scouring the zero-waste shops in Edinburgh or hiking in Snowdonia - you can easily enjoy an eco-friendly holiday close to home.
Cecilia Borjeson, travel expert at travel search platform Holiday Pirates, suggests her five favourite destinations in the UK worth a visit by all eco-warriors: 
Edinburgh
Edinburgh was voted Britain's most eco-friendly city in 2019, so it's an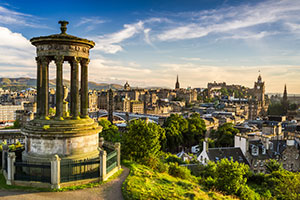 excellent spot for environmentally conscious travellers looking for a unique break. The city is home to several zero-waste shops; as well as a variety of eco-friendly restaurants and cafes which have been certified as suitable for 'green tourism' due to their sustainably sourced produce.
Many of Edinburgh's hotels have won sustainability awards, so you won't be short of places to stay if you're looking to reduce your carbon footprint. On top of this, the city is geared towards the use of cycling, walking or public transport to get around, which means you can make sure your travel is low-impact, too. Finally, there's plenty available for nature lovers: Edinburgh is home to an abundance of parks and green spaces, and the city's public transport network means you're within easy reach of the beach if you choose to stay in the city. 
Bristol
Bristol was the UK's first "cycling city", and was named as a European Green Capital in 2015. It's historically been associated with the green movement in the UK and is ranked highly as a 'sustainable city' for its approach to things like recycling and transport, so it's an excellent choice for people looking for a low-emissions getaway. Bristol Temple Meads railway station is the largest rail hub in West England, which means it's easy to reach without creating a high carbon footprint. 
Bristol is home to plenty of nature reserves, including The National Arboretum and Ashton Court Estate, as well as spots of natural beauty such as Cheddar Gorge. There are also plenty of environmental causes to get involved with in the area: the Windmill Hill City Farm in central Bristol is a voluntary project which focuses on environmental activities, and Limeburn Hill Biodynamic Vineyard produces natural wines in a way that works with, rather than against, nature. 
Brighton
Brighton is considered to be one of the greenest cities in the UK and is home to the only 'Green Party' MP in the UK - which means the locals place a high priority on protecting the environment. It's another destination easily accessed by rail for people interested in 'slow travel', with stunning scenery to admire along the way. 
There are plenty of sustainability projects going on in Brighton to get involved with. There's the Brighton Waste House, which is a 'living laboratory' for ecological design and is made up of over 85% discarded materials. The city is also home to freegle, Brighton's own recycling platform which allows people to exchange unwanted goods. Finally, there's Brighton's Butterfly Bank - made up of 60 tonnes of chalk and 1,000 downland plants, designed to help increase bee populations. 
Cornwall
Cornwall has historically been a popular tourist destination for a long time, mostly due to its natural beauty and beaches. In fact, Cornwall is
considered an area of outstanding natural beauty and the surrounding area is home to several protected nature reserves. However, that's not all the area has to offer - it's also a great destination for those of us who are interested in environmental causes. 

Cornwall is home to the Eden Project, an enormous environmental space made up of biomes containing a range of diverse climates and plants. The project was built in a reclaimed china clay pit and is also home to a botanical garden designed to support Cornwall's indigenous wildlife. The Eden Project is also home to many art installations themed around nature, sustainability and environmental consciousness.
Snowdonia
Snowdonia isn't quite a city, it's a national park, but it's still well worth visiting if you find yourself in Wales. The area, in the north-west of Wales, is home to some of the highest peaks in the UK. The park, which has several mountain ranges, making it popular with walkers and hikers, is also home to natural forests and coastal conservation areas with sand dunes. Snowdonia is reachable by train, and the surrounding area is home to plenty of eco-friendly guest houses and cabins run by nature-loving locals. 
There's also plenty of outdoor activities to undertake in Snowdonia for people who shy away from mountain hikes: including canoeing, kayaking, fishing, horse riding and even golf. It's also home to Greenwood National Park, an adventure park which contains the world's only 'people-powered' rollercoaster, and the UK's first solar-powered ride. Truly committed eco-warriors could visit Snowdonia's Environment Studies Centre, which offers courses in countryside stewardship and skills such as orienteering, hikes, history or illustration.