So if you' are wanting to know 'where to go' and 'what's on' once you embark upon your glamping holiday, here at Wigwam ® Holidays we have over 80 options for you.
Wigwam® Holidays has over 80 glamping sites across the UK so you can enjoy the great outdoors in comfort.
From a remote Scottish Island to a sun-kissed Cornish beach, there is a site for you.
All sites are in picturesque locations with attractions nearby, making for a perfect Wigwam® Holiday every time.
If you are new to the Wigwam® Holidays experience, then you are most welcome to join an ever-increasing family of Wigwammers who stay in fully heated, insulated timber cabins.
Wigwam® Cabins come in a selection of shapes and sizes from a neat Wee Brave to a fantastic Running Water Deluxe, which is en-suite with kitchenette, dining area, comfy mattresses, toaster, kettle, microwave and fridge. 
Some sites also offer private hot tubs with their cabins and most sites accept pooches as part of the fun!
Most Wigwam® Holidays glamping sites also offer a firepit service, have bbqs for outdoor eating and the opportunity to meet families who love the same things as you.
While many of us will associate glamping with summer, then you'll be pleasantly surprised to learn that many sites are geared up for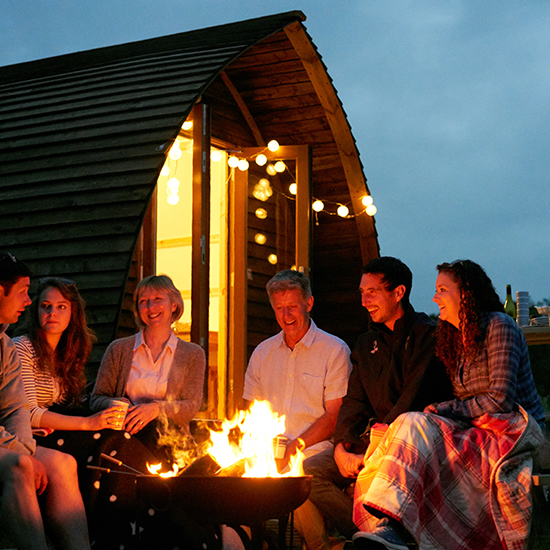 year-round breaks.
Autumn, winter and spring all offer different ways to enjoy what nature has to offer: kicking through golden leaves, enjoying a frosty walk and seeing lambs in the fields … what could be better.
Yet there are other important things to consider. The cost, for one thing.
Here at Wigwam® Holidays we aim for affordability for our guests. 
While there will be seasonal tariff adjustments, there are also opportunities to take advantage of off-peak discounts.
We also take care to use sustainable timber sources when building our cabins at our workshop is Scotland. 
Our cabins are also very easy to heat and keep warm – a thick layer of insulations keeps our timber accommodation as snug as a bug in a rug!
From Spring 2019, several sites will feature the brand new fully accessible Running Water Deluxe Wigwam® Cabin, too!
At Wigwam® Holidays, our objective to give you a glamping experience you'll want to repeat time and again. We're proud to be part of those special memories you will create. 
So look no further than www.wigwamholidays.com- where your glamping holiday begins!