Blenheim Palace has unveiled a fantastic programme of new slide talks for 2020. The Oxfordshire UNESCO World Heritage Site is a truly unique destination for group visitors both from the UK and overseas.
 Cathy Penry, Groups Sales Executive said: "Our programme for 2020 highlights our 300 years of history and heritage at Blenheim Palace with a series of classic topics ranging from Blenheim's military history to aristocratic life. There have been some fascinating characters who have lived and influenced the Palace and Parkland which should offer groups a really engaging and interesting day out.
 "The Winston Churchill Talk is set to be really popular with groups and overseas visitors whilst our Conservation and Sustainability talk brings groups right up to date with our commitment to safeguarding both the Palace and the Environment for future generations" 
"Blenheim Palace has great access for coaches and parking is also easy and convenient with space for large parties at Flagstaff Gate just outside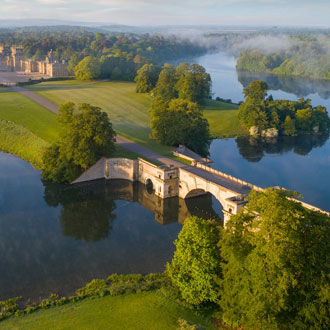 the main visitor centre."  Talks for 2020 include: 
Winston Churchill at Blenheim
Military Marlboroughs (focus on pre-20th Century Duke's and warfare)
The Palace at War (focus on WWI & WWII)
Ladies of Blenheim – The influential women who have steered the Palace's history
Christmas at Blenheim: Family stories  ( available at Christmas time only) 
Life Below Stairs – Private Service at Blenheim Palace
Park & Gardens (from Henry I to Achille Duchene via Henry Wise and Capability Brown)
The Blenheim Collection 
Conservation and Sustainability
Parties, Portraits and Politics – Blenheim in the Roaring 20's New for 2020 Blenheim Palace is curating a temporary exhibition, 'Parties, Portraits and Politics Blenheim in the Roaring 20's', from 15 February – 13 April 2020. Visitors will be able to discover an in-depth portrayal of this fascinating decade in the history of the British aristocracy. The 9th Duke of Marlborough and his second wife, American intellectual, Gladys Deacon, were lavish hosts at the baroque Palace, which has been the seat of the Dukes of Marlborough for over 300 years.  For overseas group organisers who book ahead, Blenheim Palace has a number of multi-lingual guides to offer private tours of the Palace State Rooms, providing an enhanced experience in their own language. These tours are subject to availability and are only possible at restricted times of the day. Alternatively the Multi Media Audio Guides are available in 9 different languages and are included within the group entry fees.
 For further information on talks, exhibitions and events for groups in 2020 please contact groups@blenheimpalace.com or telephone 01993 815600.