If you are looking for an evening out with a difference then get yourself down to Camelot Rises.  It's perfectly set in the former Camelot Theme Park near the village of Charnock Richard.  The Zombie apocalypse-themed experience benefits from the 10 years of vandalism and neglect the site has experienced since it closed.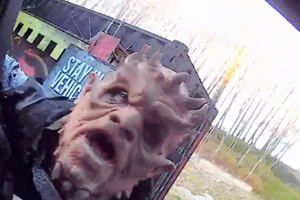 The experience is very interactive with the experience starting with a drive through the abandoned theme park.  It begins with a 'Code Red' shakedown at the entrance, this gets the adrenaline pumping.  You then journey through the park and experience plenty of laughs and frights from the team tasked with protecting you and the undead zombies. 
Once you have completed the drive-through you then get to enjoy the after-party in an American style drive-through cinema experience (minus the waitresses on roller skates).  The DJ/compare is entertaining and there is an opportunity to interact with one of the caged zombies and take some selfies with some apocalyptic props whilst you wait for the film to start.  There is a good selection of food and drink on offer with pizza, tacos, burgers, Greek and sweet treats and a licensed bar for those of you not driving to enjoy. 
This is a really enjoyable experience that runs until Sunday 17th April.  It's not for the faint-hearted.  It's a well-executed concept I hope to see return again later in the year.  I'll be back for more.